Option 1: Old Woman Range (Nevis), approx 25km, 1400m descent, Grade 3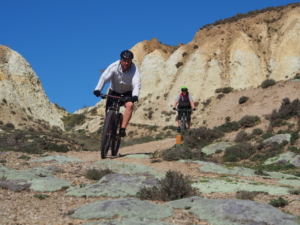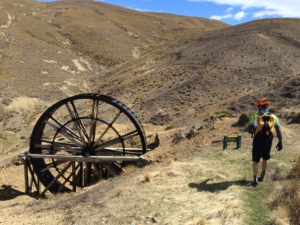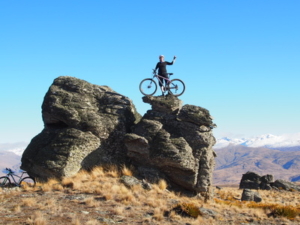 Land at 1685m on the Old Woman Range.
Bike downhill following a 4WD track to the Nevis Road, a short and sharp uphill to Duffers Saddle (the highest point on the NZ road network), then 1km of undulating ground before rolling downhill the Carricktown tack – heaps of gold mining history including a stamping battery, the Young Australian Waterwheel, and Carricktown and Quartzville mining hut ruins.
If self-riding, finish off riding to Bannockburn on gravel and sealed roads. If guided, there's the option of riding to the goldmining remnants of Stewartown and Menzies Dam, and finishing off through the Bannockburn Sluicings. End at Mt Difficulty Winery, the historic Bannockburn Hotel, or The Black Rabbit Cafe.
Some rocky sections that require good bike handling skills, or you can walk these parts.
*** During the winter months (June, July, August) the high country is covered in snow and impassable on a normal bike. A shortened version is available with Fat Bikes. ***
Option 2: Cairnmuir Mountains, approx 15km, 900m descent, Grade 3, "Thyme for Wine"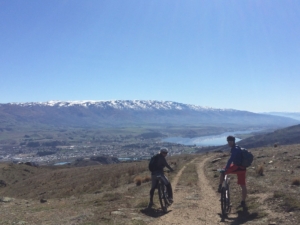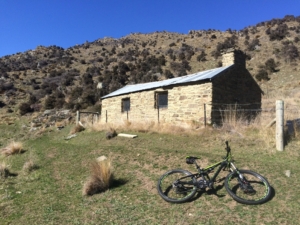 Check out a recent write-up "A freewheeling life" in the Otago Daily Times about this ride!
Land on Mt Jackson at 1130m – a glade-like landing site surrounded by column rocks standing tall around you. Ride through a working Merino high country station with fabulous vies into the dramatic Cromwell Gorge and across to the Dunstan Mountains. A tussocky landscape with free flowing grass covered farm and dual single tracks.
Take a rest at the Old Musterers Hut – a leftover from the gold mining days; feel free to explore the inside of the cottage. Follow an old water race to the next section of the track: an arid country with ground covered in wild thyme. Some undulating terrain with stunning views through the Nevis Valley and Bannockburn in the south and the Cromwell Basin and Lake Dunstan in the north.
End up on Cairnmuir Road after a fun and free flowing downhill. Finish the ride along an olive grove, cherry orchard and plenty of vineyards that will welcome you for a quick tasting before pulling into Carrick Winery and Restaurant or the historic Bannockburn Hotel for refreshments and nibbles.
*** This route is closed for lambing from 15 September – after Labour Weekend (approx 25 October) each year. ***
Option 3: Leaning Rock via Mt Horn, approx 20km, 1300m descent, Grade 3+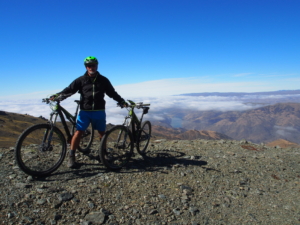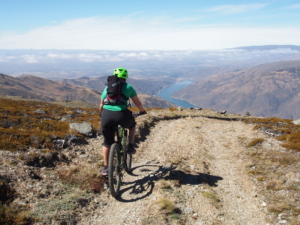 Land at 1667m on Mt Dunstan. Bike along the ridgeline of the Dunstan Mountains through private land following a 4WD track to Leaning Rock. Enjoy magnificent views out over the Alexandra Basin.
Descend 7 km along Fairfax Spur (500 m drop in altitude) to Mt Horn (1136m) where there's a marked change in the landscape from the rocky alpine environment to a pastoral high country sheep station. After clearing the "savannah section" just below Mt Horn, make sure you take the time to take in the stunning views over Cromwell.
From here, there's a super fun and fast flowing downhill section – a 400 m descent spread over a 4 km section of the track. Finish off over the Deadman's Point bridge to end your ride at the Freeway Orchard complex for a real-fruit ice cream or a cold drink and some food at The Stoaker Room Restaurant. Also located on site are Misha's Vineyard Tasting Room and the Quest/Matt Connell Wines Tasting Room.
*** This route is closed for lambing from 1 October – 30 November each year. ***